Storage Tips for Your Auto Repair Shop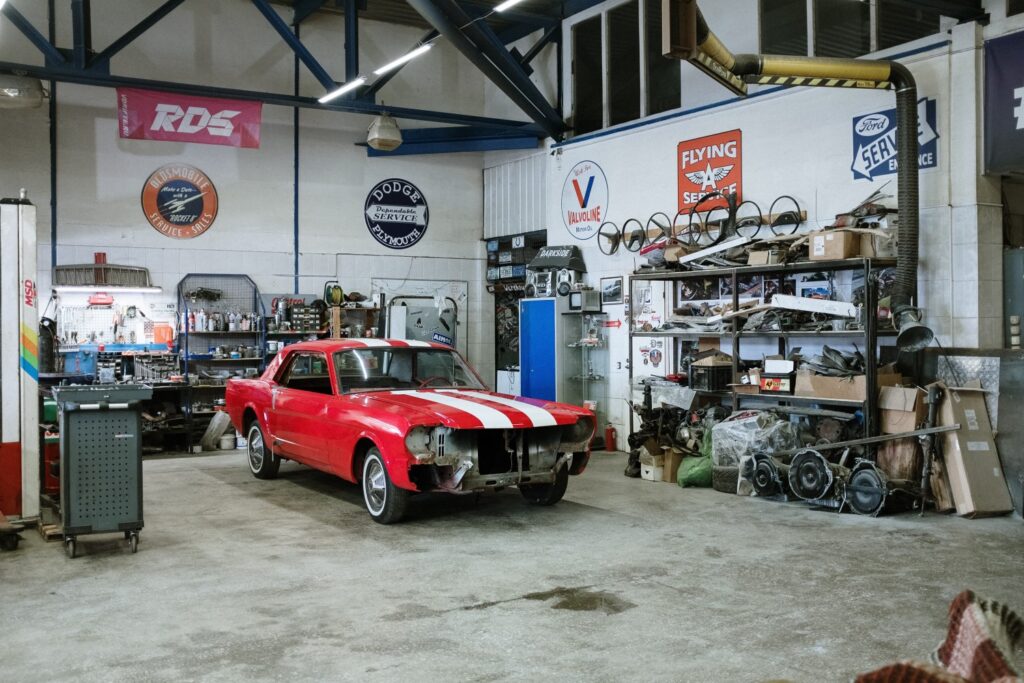 As an Amazon Associate, AutoPros earns commissions from qualifying purchases made through links in this post.
Efficient storage is helpful for not only enabling a professional looking auto repair shop, but will save you a significant amount of time searching for tools and items. Time is money when it comes to business. This is especially important when you are on a strict time schedule, and don't have the time to spend searching for parts, tools and other items.
There will be a storage set up best suited for you, as every workshop is different in size and layouts. In most cases, a number of different types of storage products working together to efficiently utilize the space is the best option.
Depending on the type of shop you're running, you will need to store different stuff. If you run an auto repair shop, you're likely going to store a ton of shop tools, specialty tools, auto parts that you commonly use and miscellaneous hardware like cotter pins, nuts and bolts, etc. Here, we look into the storage items you could look into.
Shelves for Your Auto Repair Shop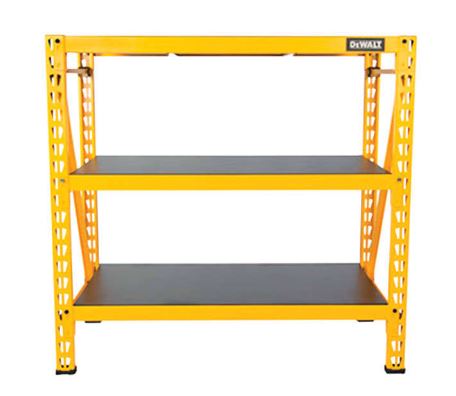 Shelves can utilize the space from floor to ceiling, with a ladder in hand. If you are short on space (who doesn't run out of space in their shop?) then ample shelving is recommended. We would start with several banks of heavy-duty steel shelves like these from DeWalt. They can hold thousands of pounds of weight and take a lifetime of beating without failure.
Think vertically, too. You can opt for a ceiling mounted shelving like these FLEXIMOUNTS shelves, allowing you to work beneath it, making use of that space closer to the ceiling.
Many shelving companies offer different lengths, widths and heights of shelving, allowing you to truly tailor them to your workshop. Shelves often come with matching storage bins which match the sizing perfectly, optimizing space and giving a seamless look.
Auto Shop Storage bins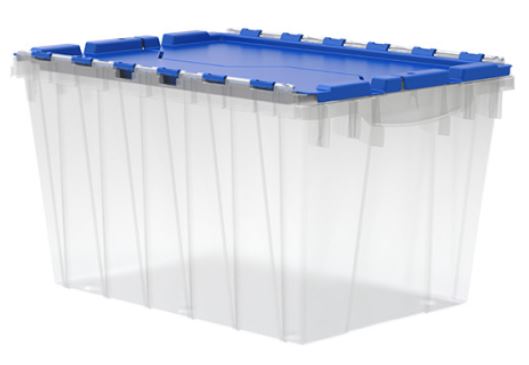 Shelving provides a place to store, but it doesn't necessarily mean things are automatically organized. Things can easily be lost or fall beneath each shelf, or behind the shelf itself. For individual small items, you should then add organized storage bins to the shelves, while larger items can easily slot right into the shelves.
Storage bins are perfect for holding bolts, nuts, cotter pins, and other small items you need to keep organized. Keeping simple items like this organized will save your mechanics a ton of time, as it will be easy for them to find what they need.
For automotive storage bins we strongly recommend heavy-duty clear locking "round trip totes" like these ones. Clear bins will help you identify what's in them at a glance, instead of forever having to open them up and check (a real pain when they're stacked on top of each other!).
For super heavy steel parts like alternators, brake discs and puller tools we strongly recommend going with old school stackable dairy milk crates. Milk crates are indestructible, stack great and are easy to carry around with their built-in handles. They also make great seats in a pinch!
For smaller parts and supplies, we like mesh straight wall containers like these ones. They stack great and hold tons of lighter items that would otherwise get lost around your shop.
Metal Cabinets For an Auto Repair Shop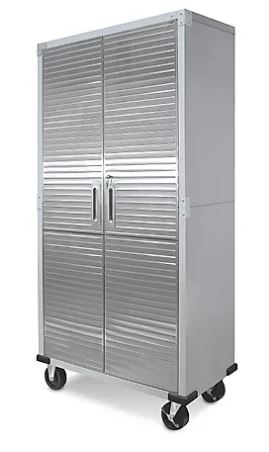 The benefit to cabinets is that items that appear messy can be stored away from the eyes of customers and the greedy hands of the local shop thief. In addition, cabinets can be locked, providing extra security for expensive items.
A good starting point for a lockable cabinet is this classic Craftsman steel garage cabinet. It's ideal for storing specific tools, bits and do-dads next to a work area like your engine area or tire mounting machine.
Mobile garage cabinets like this one from Seville Classics are especially suited to mechanics as you can quite literally roll them around to different areas, becoming movable workstations. When you need to store more large quantities of tools, or heavy equipment, this is the perfect solution.
Confidential documents can easily be filed away in tall filing cabinets that save floor space.
Auto Repair Work Benches with Storage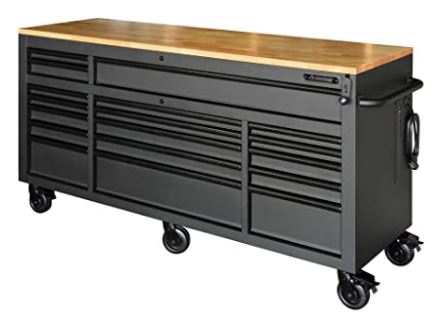 An essential item for any automotive repair shop is a heavy-duty mobile workbench like this Husky. It contains all the storage drawers you will need for your tools, and rolls in any direction on 6 big wheels so you can work anywhere in the shop.
Storage beneath work benches further maximize the use of space, and these are helpful for smaller workshops. However, even if you do have a large workshop, the storage below allows you to easily access tools instantly. There are also options to have this storage solution on wheels, so you can essentially have a mobile workstation.
It's also great to have a work bench with storage so you can attach a bench vise, which is a commonly used tool in any auto repair shop. If you have a large shop, you might want to invest in multiple work benches, but one is typically enough for the smaller shop that doesn't have more than 2 mechanics.
Label Printer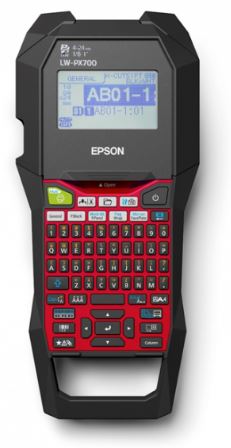 Having your storage solution in place is all well and good, but it can take some time to get used to where everything is. Add this to items being moved around by different employees, and some storage being on wheels, and you've got yourself a recipe for disaster.
Labeling is the organizational solution to easily find tools and equipment. Ensure that you label everything, from storage bins to cabinets to shelving. This will encourage people to remember where items are, and place things back where they belong. 
We've had great results with this EPSON portable industrial label-maker. It can make labels up to 1 inch tall, and printing on all kinds of things like heat shrink tubing, vinyl wrap and industrial tape.
Now that you have tips for storage, you can set up a plan or implement some new items to help organize your mechanics workshop. Let's help you work smarter, not harder.
In an auto repair shop, you will often store bolts, nuts, washers, and various parts. It's actually very beneficial to keep a bunch of common oil filters, spark plugs, and other auto parts in your shop. Store them in an organized fashion so your mechanics can find them easily and complete their jobs quicker.
Conclusion
These storage tips for your auto repair business will keep things running smoothly. It doesn't matter if it's just you as a one-man show, or 10 mechanics – keeping things organized will make your business run better, as jobs will get done quicker and you'll spend way less time hunting for things you need.
Keeping your shop organized helps you look more professional, therefore customers will trust you know what you're doing. Encourage your mechanics to do the same with their own tools, by keeping their tool carts organized properly.
When everyone and everything in the shop is organized it becomes a beautiful thing, and less tools will go missing. Every auto shop has to deal with misplaced items from time to time, but it's best to try and prevent that from happening.
As a shop owner, you will likely supply your mechanics with specialty tools needed to do specific jobs, as well as a high-end scanner to diagnose DTC code problems. These tools are very expensive and should never be misplaced.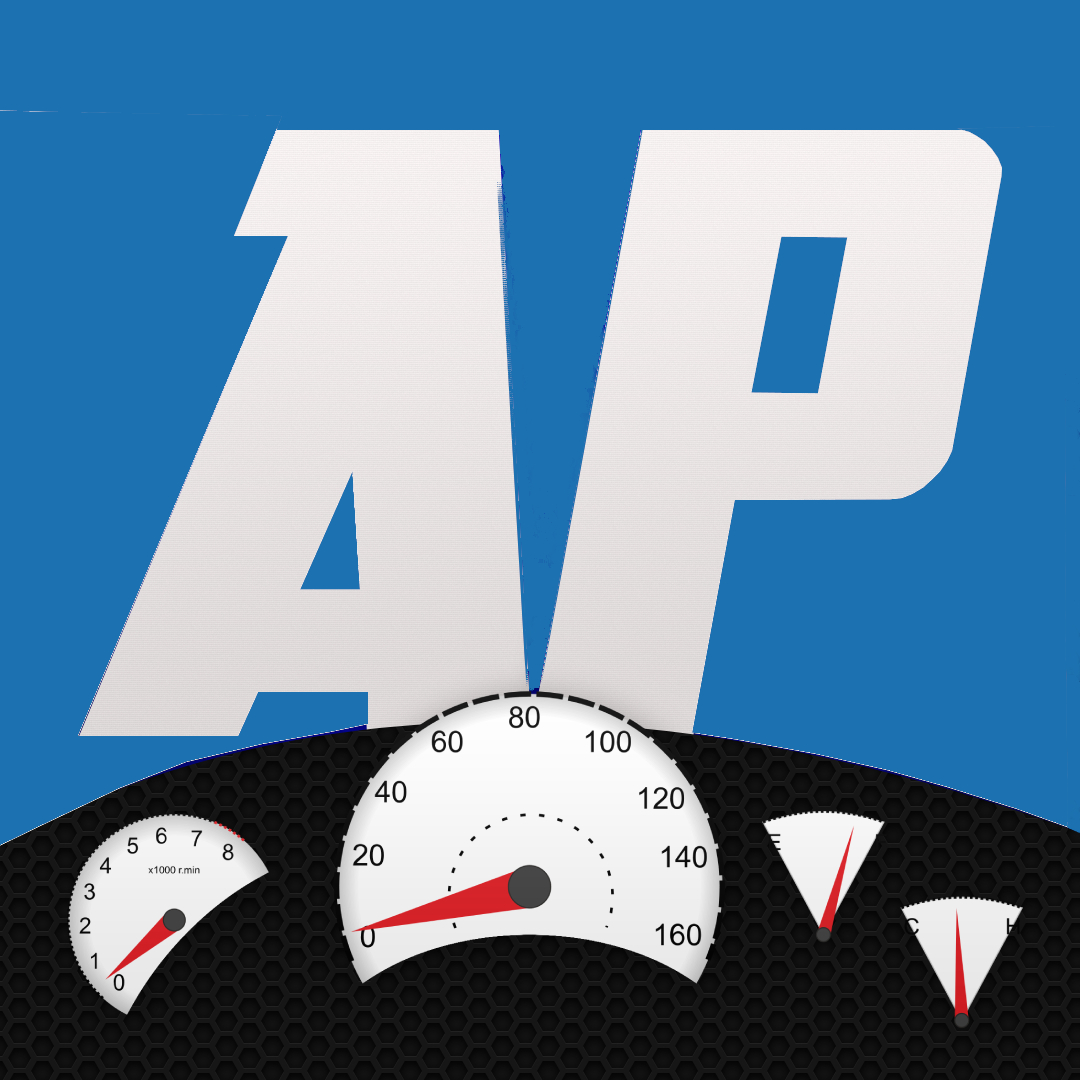 The AutoPros.online team is dedicated to bringing you high quality automotive content for professionals and car enthusiasts, with topics like auto detailing, car repairs and automotive news. Are you the kind of car owner who likes to take care of your vehicle? Then subscribe to AutoPros.online for frequent automotive content.