5 Best Mechanic Tool Carts Under $500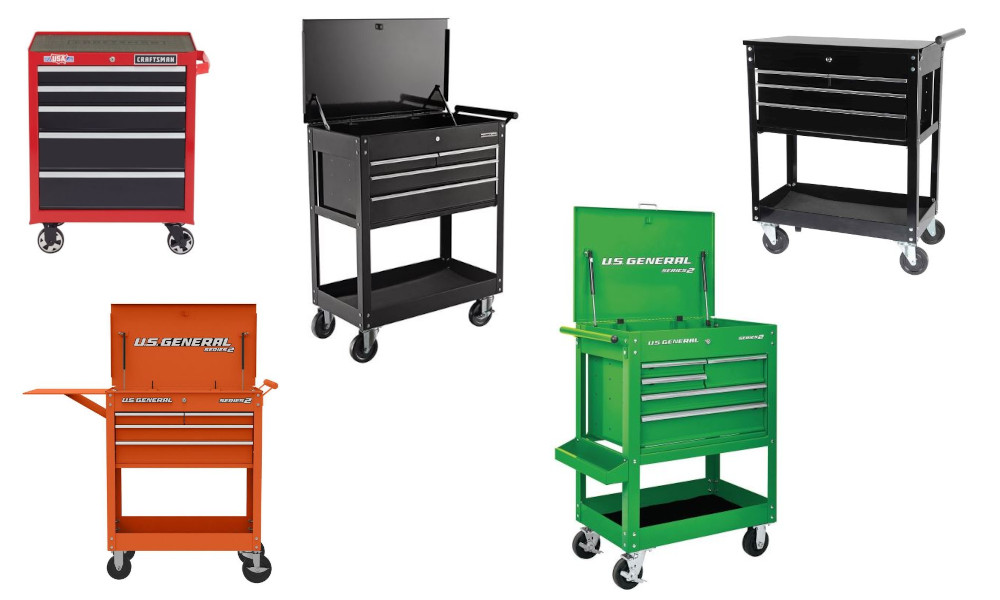 As an Amazon Associate, AutoPros earns commissions from qualifying purchases made through links in this post.
When you're just getting started as a mechanic you'll end up spending a fortune on tools, and that's perfectly normal. However, you're going to want a place to safely store and organize them. The problem is, tool carts can cost a fortune and some are selling for more than all your tools are worth combined.
We understand the struggle, and would like to help you pick the best tool cart under $500. This is mainly for mechanics just starting out, but tool carts are useful for auto detailers as well. Maybe you already have a big tool box and just need something small to roll around the shop with you as you work in different bays. This list has you covered!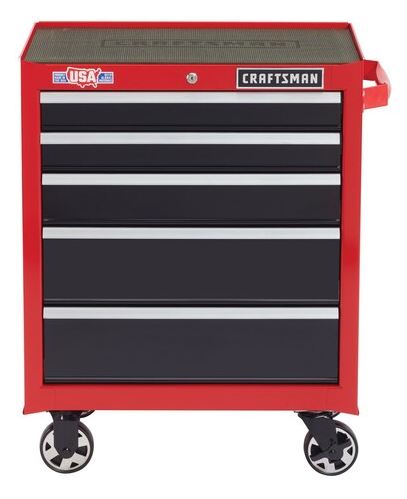 Craftsman is a household name that we all know and recognize.
Their 26-inch tool cart is everything you'll need to get started, with storage space for big and small tools. It's portable enough to roll around with you in a shop setting, and tough enough to last for many years.
This tool cart has a 1,500 pound load rating, so it can definitely handle the weight of all your tools. It's made in the USA, as well (a nice bonus).
This Craftsman tool cart comes with a 10 year warranty and includes drawer liners. It's a perfect starter tool box for the young and new mechanic.
Check out this Craftsman 26 inch rolling tool cart on Amazon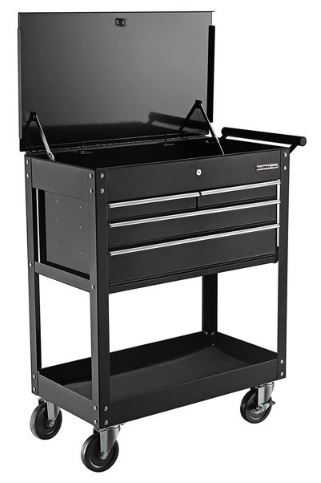 This tool cart is more affordable, but smaller than the Craftsman tool box above. It's a great choice if you want something simple, as it can carry all the sockets and wrenches you'll need to complete a job.
The Olympia Tools 84-956 HD cart can hold up to 600 pounds of weight, which is enough considering the size of the cart.
Olympia Tools made sure this cart was powder-coated to prevent rust, and its all-steel construction means it should last for many years.
Like most tool carts, this one features a locking mechanism so you can lock the drawers and store your tools safely. It also comes with non-slip liners in the drawers.
It's a great cart for auto detailers, as you can easily keep your microfibers, brushes and chemicals organized with it. In fact, it can store all your auto detailing tools. But it will work just fine for a mechanic who wants to move around a tool cart with his wrenches, ratchets, sockets and other small tools.
Check out the OLYMPIA TOOLS 84-856 tool cart on Amazon.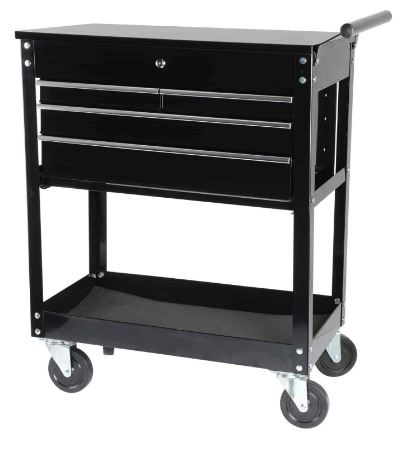 Made from 16-gauge steel and capable of carrying 580 pounds – the JEGS 4-drawer tool cart is a great option for anyone who needs a new place to store their tools.
Like the other tool carts in this list, the JEGS cart has a powder coat finish and won't rust unless it gets damaged prematurely. Drawer liners are also included. It rolls on 5-inch rubber casters that are really smooth and last a long time.
This JEGS cart is a very similar option to the U.S. General 4-drawer tech cart below. It also comes with a nice lock to secure your tools from "walking away" at your shop.
Check out the JEGS 4-Drawer Tool Box Cart on Amazon.
U.S. General 30-inch 4-Drawer Tech Cart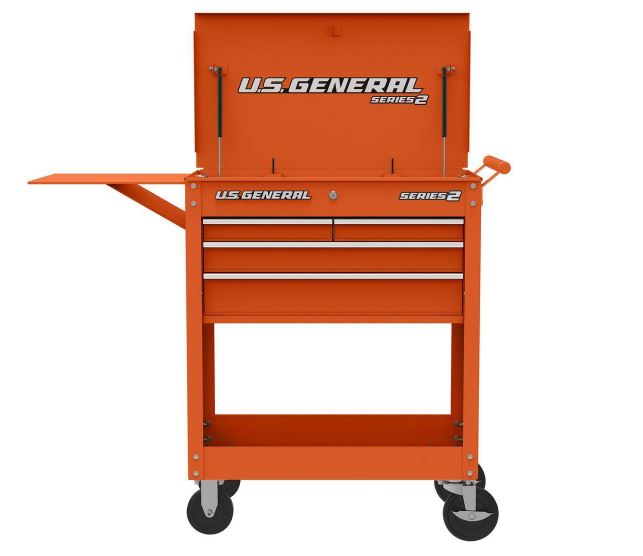 Harbor Freight is known for its amazing deals on tools, and their tool carts are no exception. Their U.S. General line of tool carts offers a variety of color choices so you can pick the color you like most. Orange, green, red, blue, yellow and black are all color options.
This cart is capable of holding up to 580 pounds, and is made from steel. It features an industrial powder-coated finish to prevent rust from occurring. The drawers close and stay secured without popping back out (a common problem for many tool boxes) and you will find non-slip pre-cut drawer liners in all compartments.
There is also a barrel lock to keep your tools safe, and anyone who plans on bringing this to a shop will appreciate that. The top lip opens with dual gas struts to keep it up, and it provides for a great place to put your socket trays and other miscellaneous tools.
U.S. General 30-inch 5-Drawer Mechanic's Cart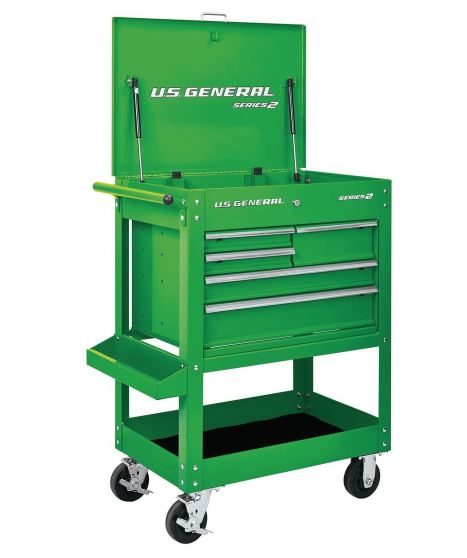 Finally, there's the U.S. General 5-drawer mechanic tool cart.
This is a taller and heavier cart, one step up from the 4-drawer U.S. General cart above, so it holds a little more — 700lb worth of tools and other mechanic's gizmos. For most new mechanics, this is all you need.
You can expect the same powder coat finish and non-slip drawer liners which are already pre-cut to fit each compartment.
If you don't need that fifth drawer, than go with another option. However, it's best to buy as much storage space as you can afford. As a mechanic, you will likely get more tools over time and need more space. This cart locks up properly, keeping your tools safe.
No Need To Spend More Than $500 for a Mechanic Tool Cart!
So, there you have it. 5 good choices for best mechanic tool carts under $500. If you're just getting started with your automotive business, or you need a tool cart for your garage for your car hobby, these are the best deals we've found. We don't think you should go off and spend $thousands on a tool cart unless you have unlimited money to burn — just get what you need. You can't go wrong with any of these choices.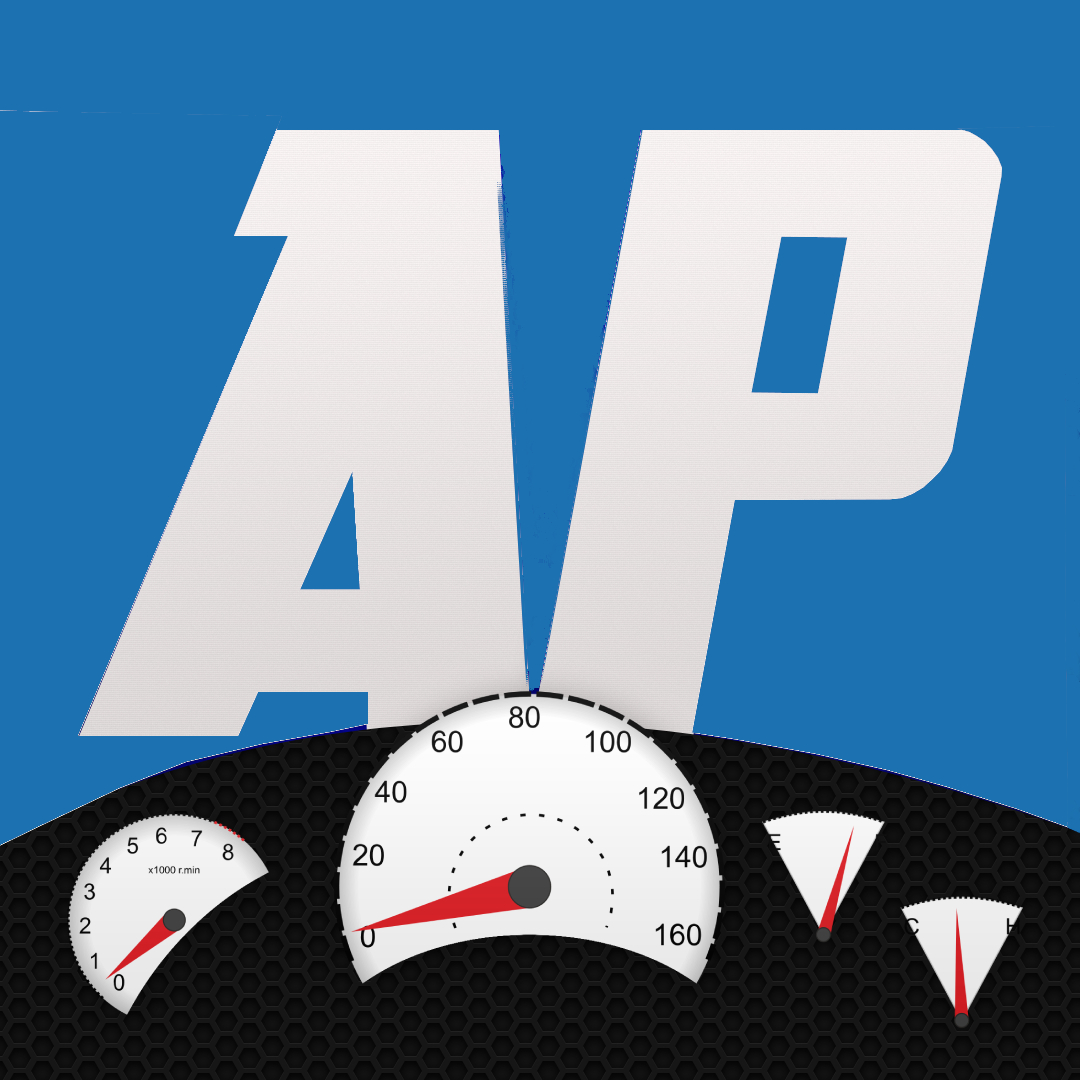 The AutoPros.online team is dedicated to bringing you high quality automotive content for professionals and car enthusiasts, with topics like auto detailing, car repairs and automotive news. Are you the kind of car owner who likes to take care of your vehicle? Then subscribe to AutoPros.online for frequent automotive content.