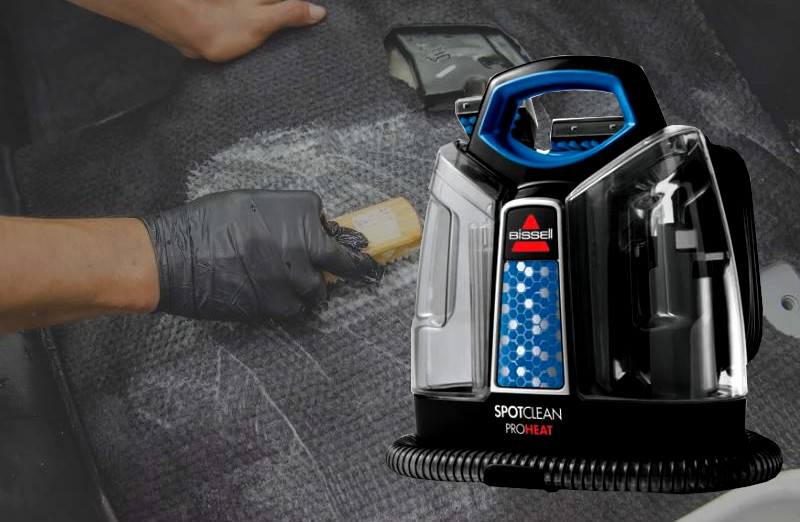 As an Amazon Associate, AutoPros earns commissions from qualifying purchases made through links in this post.
The Bissell SpotClean ProHeat series is kind of strange. If you go to Walmart you will find the ProHeatPet model, if you go on Amazon you will find the standard SpotClean ProHeat model. If you go on Bissell's website, you won't find either. Maybe this is because Bissell makes so many carpet cleaners and is constantly changing their products, or maybe its some type of weird marketing strategy.
The Little Green Machine is often compared to the SpotClean ProHeat and the Spotclean Pro models, as the cheaper, smaller unit. When it comes to auto detailing, all of these devices will work if you do the right prep work before extracting. There is even a Little Green that now looks identical to the ProHeat models – and the only difference seems to be the coloring and the brush attachments. The ProHeatPet has a good attachment for picking up pet hair. It's really just marketing.
The Bissell SpotClean ProHeat Demonstration
So in this article we will discuss the SpotClean ProHeat line, and more specifically we'll be using the SpotClean ProHeatPet. Remember, the only difference between this model and the standard SpotClean ProHeat model is the attachment with the brush for pet hair. Most auto detailers will be brushing and vacuuming up the pet hair before they even get to the extraction phase, so don't let this be a deciding factor if you're an auto detailer.
We will demonstrate how effective the Bissell SpotClean ProHeat is by cleaning this dirty floor-mat. Keep in mind, this was used in a mobile mechanic's vehicle for years. It has oil on it and grease from dirty tools being thrown on the floor. If it was a lighter color it would look much worse than it does in the photo above.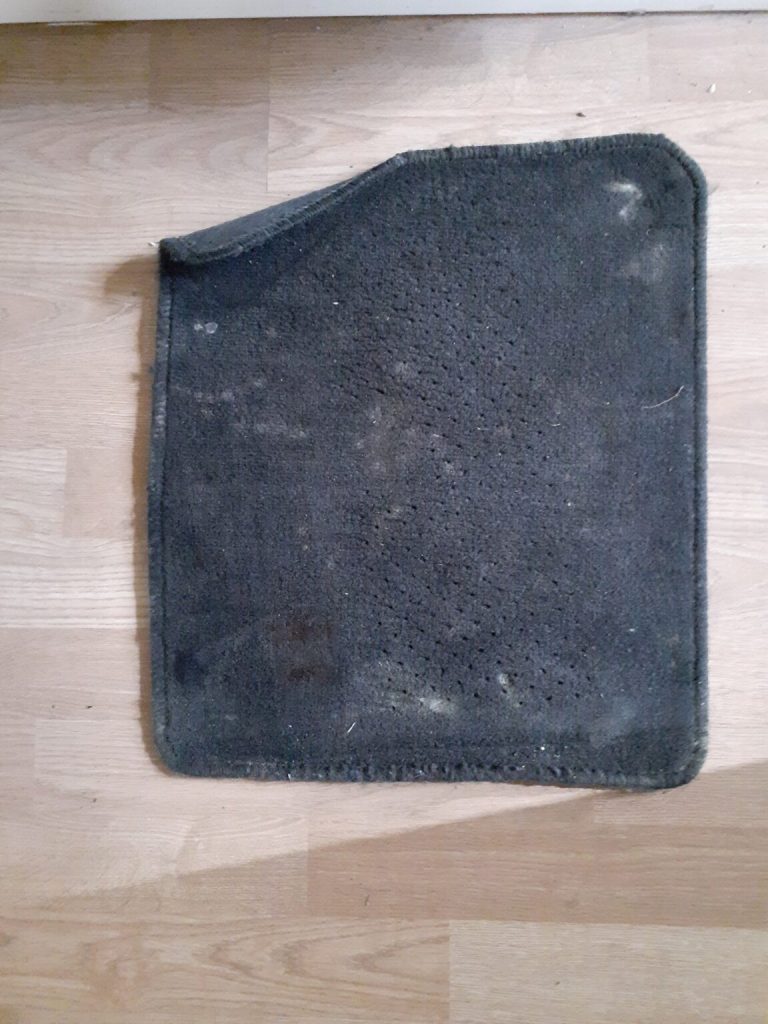 This is the equipment we will be using to clean the dirty floor-mat. A spray bottle with all purpose cleaner (Las Totally Awesome APC – get it from the dollar store, its cheap and effective), the Bissell SpotClean ProHeatPet, and a cheap Bauer wet/dry vac from HarborFreight.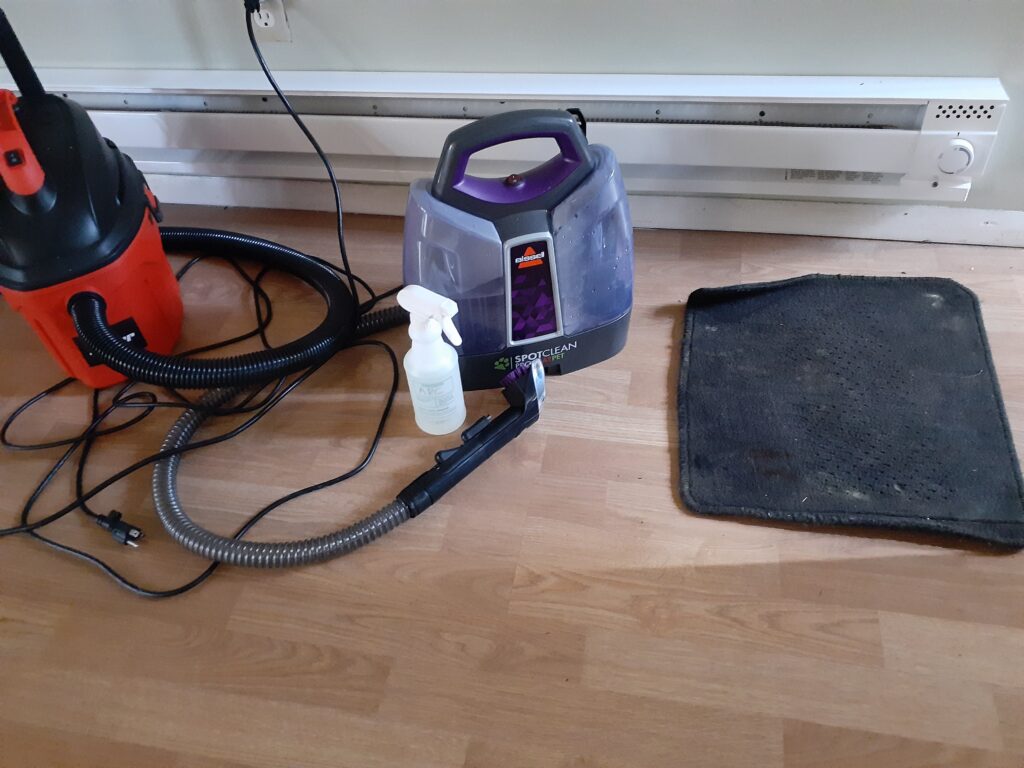 Since this ProHeatPet attachment has a decent brush on it, we used it instead of a typical hair detailing brush to brush the carpet before and during the vacuuming stage. Brush the carpet, use vacuum to suck up all loose dirt. It's best to remove everything you possibly can before getting the floor-mat wet.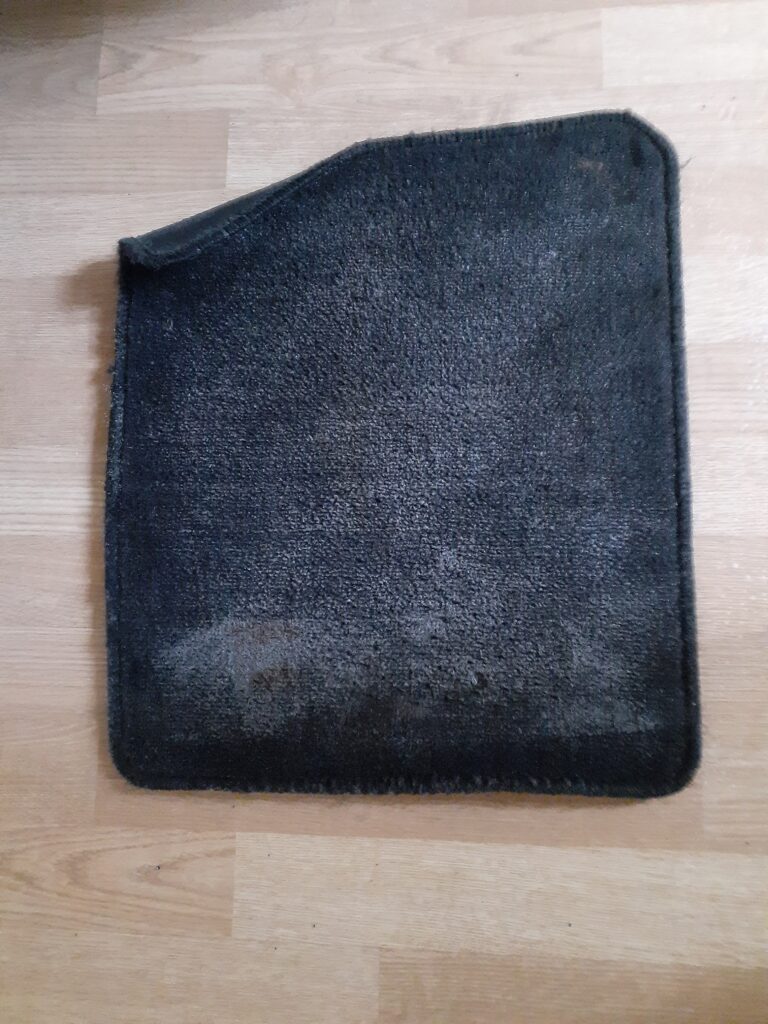 So after a thorough vacuuming of the floor-mat we soaked it with APC and let it sit for about 5 minutes. The All purpose cleaner used here was Las Totally Awesome and it was diluted to be about 1/10th of the spray bottle.
After letting it sit, we once again used the brush from the ProHeatPet to scrub it down real good, leaving the machine off so it doesn't suck up any of the APC.
Keep in mind, this is usually when you would use a drill brush to clean quicker and more effectively, but for the sake of this example we're explaining how we can clean with the ProHeat extractor and minimal other products. Which also provides you with the benefit of knowing exactly how clean you can get carpets with just this device, a vacuum and APC.
Now that the APC has soaked and has been agitated with a brush, it's time to start extracting.
After all that, there are still stains in the floor mat.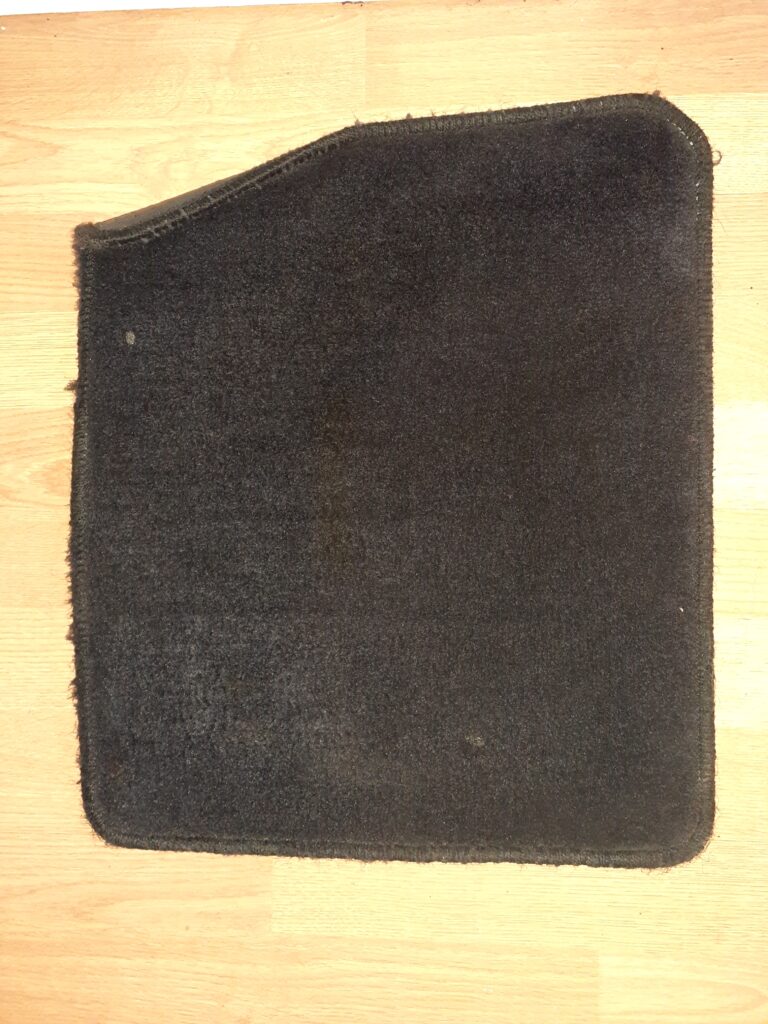 We used the machine until the dirty water was filled to the limit and it stopped sucking up fluids. The results were not that great, considering how much time was spent on one little section of what could be a whole car when using the device professionally. However, using a drill brush and better APC would probably speed up the process tremendously, so it definitely can be used professionally if you get a good system and routine down.
Here's what the water looked like after the floor mat cleaning job: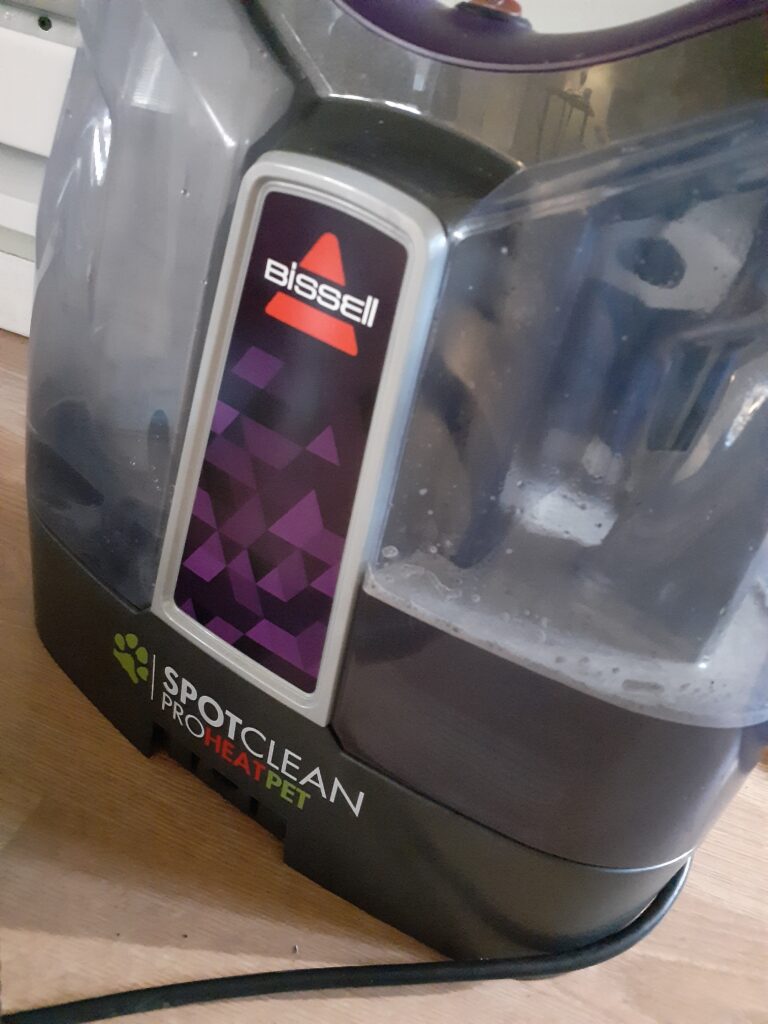 PROS of the Bissell SpotClean ProHeat
Easy to operate.
Portable – can easily move the machine around, even inside a vehicle.
Powerful – sucks up a ton of stuff missed by the wet/dry vacuum used in our example, including hair!
Affordable – the specific ProHeatPet model we used in the example can only be found at Walmart and a few other places. The standard SpotClean ProHeat can be found on Amazon. It's the same device (different attachment and colors), and when we last looked, they were selling for the same price.
CONS of the Bissell SpotClean ProHeat
It has a small tank! You'll have to constantly dump the filthy water and re-fill the clean water tank when doing an entire vehicle. It's not a huge inconvenience for most auto detailers, but it can be frustrating.
It's not as powerful as more expensive units. This is to be expected. So make sure you do your prep work, vacuum and agitate really well before you start extracting. Also, on stains like the ones we couldn't remove in our demonstration above – use a steam cleaner!
Conclusion
The Bissell SpotClean ProHeat is a great extractor for any mobile detailing operation, as it's lightweight and portable. For those of you detailing from your car and don't have a lot of room, something like this is exactly what you need. There are some cons that will come with it, but there are also workarounds to avoid these cons from hurting your detailing experience and/or business.
Having a small capacity for clean and dirty water is the worst thing about this product. However, the small capacity allows us to easily move the ProHeat around from job to job. It's small enough to move it around within the car you're detailing. The hose length is decent, but not that long. Being able to move the device around is a huge plus for this device!
If you have the extra money, the better option will always be the Bissell SpotClean Pro, it has a larger capacity for fluids. The SpotClean Pro has a 96oz capacity, while the SpotClean ProHeat has a much smaller 37oz capacity. Still, the ProHeat does include a feature that the Pro lacks, and that is heat.
Heat is important when cleaning carpets. The "Heatwave Technology" supposedly heats up the water 15 degrees – but we did not notice a difference in temperature when using the product and it didn't appear to heat up the water at all.
So, should you buy the Bissell SpotClean ProHeat? If the SpotClean Pro is out of your budget, then go for it! It's one of the best options for the price, and you'll be able to do a great job with it as long as you understand how to clean carpets.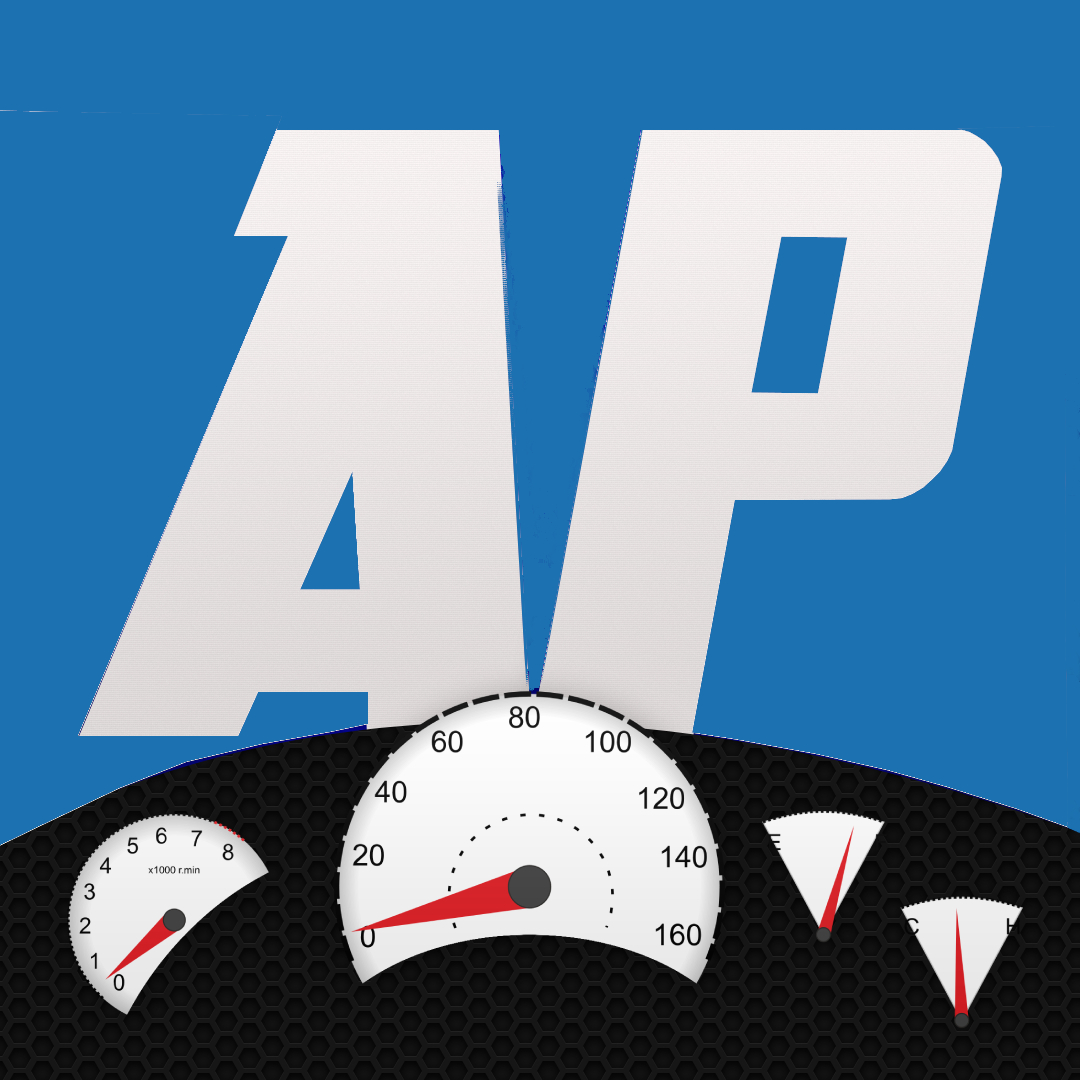 The AutoPros.online team is dedicated to bringing you high quality automotive content for professionals and car enthusiasts, with topics like auto detailing, car repairs and automotive news. Are you the kind of car owner who likes to take care of your vehicle? Then subscribe to AutoPros.online for frequent automotive content.