Vacmaster 3-in-1 Portable Carpet Cleaner and Vacuum Review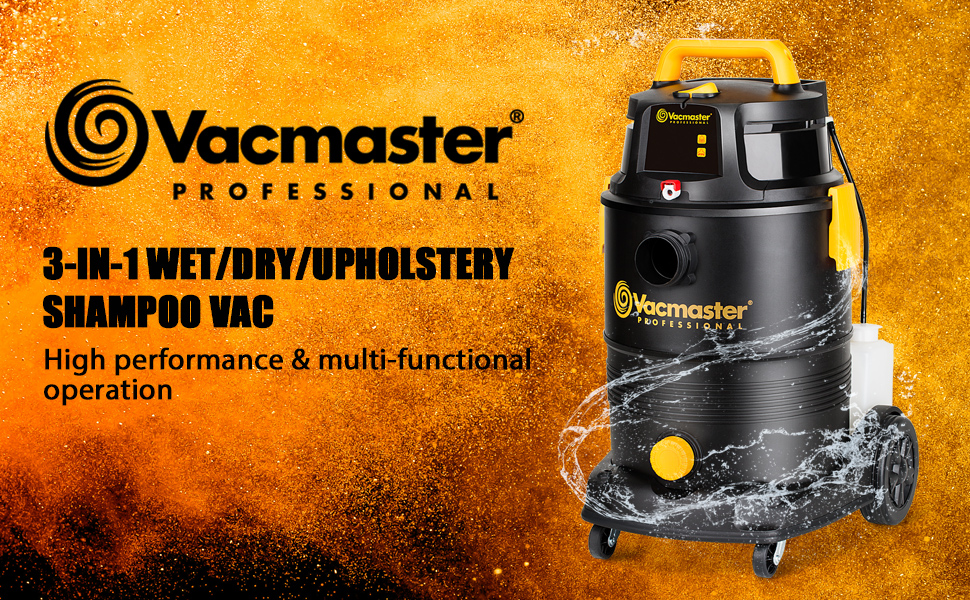 As an Amazon Associate, AutoPros earns commissions from qualifying purchases made through links in this post.
Auto detailing requires both a wet/dry vacuum and a portable carpet cleaner, so getting both in one piece of equipment is truly a blessing. The Vacmaster 3-in-1 portable carpet cleaner is also a wet/dry vacuum, which is perfect for mobile detailing jobs.
Mobile detailing with just a wet/dry vacuum and carpet cleaner…
I researched for months on all the tools required to start a mobile detailing business, watching YouTube videos, reading forums and blogs. I came to the conclusion that a shop vac is all I needed to clean seats and carpet, as it could vacuum debris and be used as an extractor after soaking and scrubbing carpet.
So I bought a relatively cheap one at Harbor Freight and used that for my first few mobile detailing jobs. It worked great, although it was more work than it should've been. As soon as I had the cash, I bought a portable carpet cleaner made by Bissell. Which was perfect for my needs and worked great, but it required me to haul around two different machines. No big deal, I worked like this for years.
Becoming more productive with the 3-in-1 Vacmaster
However, after looking into the Vacmaster 3-in-1, I wish I would've just bought this machine in the first place. It's one machine, a wet/dry vac, with carpet extractor features built-in. It can spray carpet cleaner just as my Bissell SpotClean Pro, and it can extract even better as it has more power.
Best thing about it though – the Vacmaster is one machine!!! It's easier to haul around in a car for those of you who are starting out from a small car. No need to unplug one machine just to power another, as it's an all-in-one deal.
I did some reading on the machine and decided to purchase and give it a try…
Definitely one of the best decisions I've made in my auto detailing career, and it has made me a lot more productive at work. It might not seem like it takes much time to carry around different devices, cleaning multiple machines, switching plugs, etc. But, I have cut down a good chunk of my time by switching to the 3-in-1 Vacmaster and will never go back to using both a vacuum and carpet cleaner.
It's more powerful than my Bissell and original wet/dry vac, so that's another huge plus. It also makes detailing cars more enjoyable, as switching machines often gets old. I like to plug this thing in and vacuum everything before I start shampooing the carpets.
Between this and my drill + drill brushes – I can get seats and carpets completely clean with little effort and less time than it took me before.
Vacmaster 3-in-1 Specs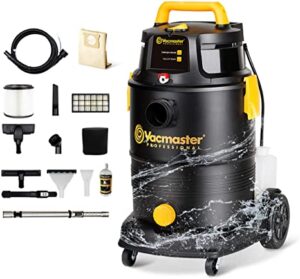 5.5 Peak HP
8-Gallon Capacity
Wet/Dry Vacuum – Very powerful suction
Shampoo Spray – Actually sprays a proper amount unlike some portable carpet cleaners
Very Durable – Tougher than my Bauer vacuum and my portable Bissell carpet cleaner!
Easy Drain Port – Makes cleaning this machine easy!!
Detergent Tank
Remote Control Handle – Very user-friendly
Conclusion
The Vacmaster Portable Carpet Cleaner and Vacuum 3-in-1 is a beast!! You can use it for boats, cars, cleaning couches and spot cleaning various spots in your home. It's also great for cleaning large area rugs!! The price can't be beat, because it's cheaper to buy this then it is to buy a quality carpet cleaner and vacuum separately. Check out the Vacmaster 3-in-1 vacuum at Amazon.
If you run a mobile detailing business and want to increase productivity – then buy this asap – it will shave hours off of your work week!

Car enthusiast with a strong love for detailing cars! I'm always keeping up with the latest industry news and watching out for the newest cars to be released. Wishing a lot of these fancy concept cars would come to life but they never do. Follow me for automotive news, detailing tips and repair help.