303 Tire Balm and Protectant Review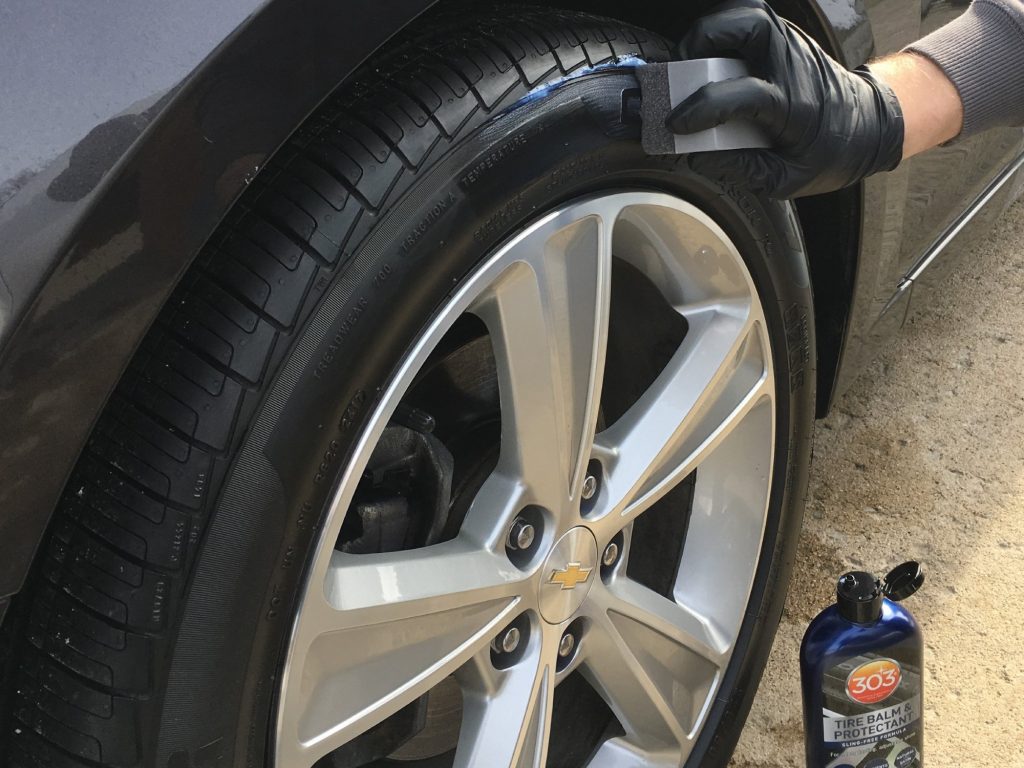 As an Amazon Associate, AutoPros earns commissions from qualifying purchases made through links in this post.
303 Tire Balm and Protectant is a tire dressing that will keep your tires looking new, and actually protect them from UV rays. This product is sold as a protectant that will prevent dry rot, fading and cracking. The company claims it will prolong the life of your tires.
After using the tire dressing for about a year now, I thought it was a great time to write a review. I've used 303 Tire Balm and Protectant exclusively this past year, and no other products have touched my tires.
Quick Overview
Let me start with the pros and cons before diving into the details…
Pros
Protects tires from UV rays
Seems to work for 3+ months when multiple coats have been applied
No sling! It's a water-based tire dressing
Can add more coats for more shine, or use 1-2 coats for a matte finish
Tires stay clean and wash very easily
It definitely gives old tires that "brand new look"
Made in the USA
Cons
Product can be messy, so be careful when applying. It's not a very thick liquid, so it runs everywhere and quickly. I dab some onto a microfiber or foam pad and then apply.
Okay, so it was hard to think of any cons for this product. It's a great product, and does everything it claims to. I apply 2-4 coats, depending on how I want my tires to look. I always apply after a wash and the tires are clean.
It's also one of the most affordable sling-free tire dressings on the market, and with Amazon Prime, I get it delivered within 2 days.
How Long Does 303 Tire Balm and Protectant Last?
Weeks, maybe months. It's a long-lasting protectant. I washed my car a month later and the tires were clearly protected. Any dust or dirt rinsed right off and the tires looked like I just applied 303 on them. Water doesn't bead like it does from a wax on paint, but it's obvious that there was some sort of protective barrier on the tires.
The maximum amount of time I've gone without applying the tire dressing was about 3 months. It was basically gone at this point, so I reapplied.
Application: The Only Negative Thing I Have to Say…
303's Tire Balm is an excellent product, but I wish it was thicker and didn't run. I used a microfiber towel to apply it the first time, and it didn't work out so well. It would run off the microfiber and drip as I applied. Maybe I put too much on, but then again, so much of it came out at once.
It's definitely not a big deal, and I just learned to be careful with it. Now I put some on a foam or microfiber applicator pad and make sure to put just enough on at once.
What About the Shine?
303 Tire Balm and Protectant is not a flashy product, and doesn't give your tires that wet look. I've tried stacking coats to achieve the best tire shine possible, but it didn't work out as I intended.
Still, most people just want a matte finish, with maybe a little shine but nothing too glossy. Matte is good for me, as long as they look clean.
When I first used the tire dressing, I had just got 2 new front tires on my car. The rear ones were a year old. Even though my older tires were clean, it was obvious the front tires were newer.
After applying the first coat and letting it sit for 15 minutes, that completely changed. They all looked brand new.
This product is perfect, unless you want the wet tire look. If that's a deal-breaker for you, then you should try Chemical Guys Extra Glossy Tire Shine.
Buy 303 Tire Balm and Protectant on Amazon.

David was a diesel mechanic for years, working on commercial vehicles and performing DOT inspections. Now, he specializes in web development and digital marketing for the auto industry while running a part-time auto detailing business from his garage.