WorkPro 20V Cordless Impact Wrench Review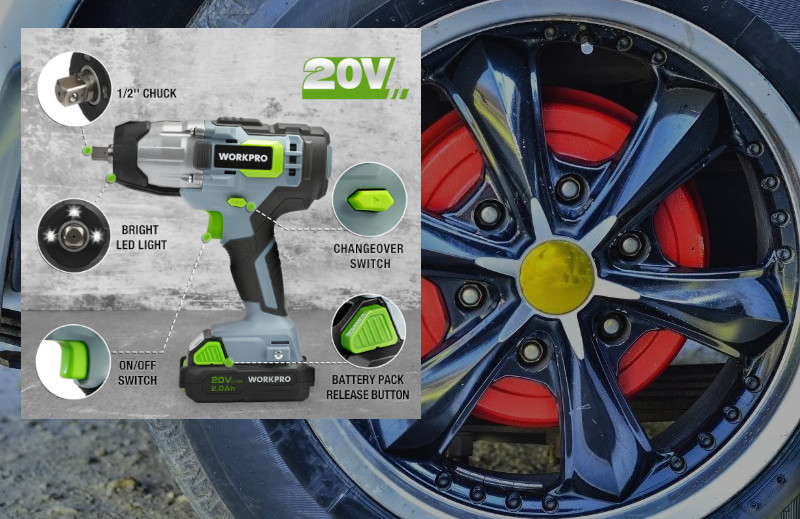 As an Amazon Associate, AutoPros earns commissions from qualifying purchases made through links in this post.
Ever heard of WorkPro Tools? Me neither. I learned about the company when browsing Amazon, as finding a cordless electric impact wrench for less than $100 seemed crazy to me. Keep in mind, I usually go with Milwaukee or DeWalt for power tools, so I was skeptical.
After dropping $80 and waiting a few days, it arrived at my doorstep. Inside the package was the cordless impact wrench, a battery pack, charger, belt clip and user manual. Everything I needed to get started.
Since this is a ½-inch impact wrench, I decided to test it on something tough. First lug nuts on my Honda Civic, and then I used it to take apart the entire front suspension. I was honestly expecting it to break halfway through the job, but it surprisingly held up just fine.
Battery Life and Charging Speed
Batteries usually don't last long in cheap power tools, but the WorkPro 12V cordless impact wrench battery didn't die on me once. I was able to take apart the entire front suspension on my vehicle and put everything back together.
I haven't pushed it to the limit, but something tells me it won't last as long as my Milwaukee battery packs. Still, the battery life is sufficient for most of us.
If you're a professional and want a cheap impact wrench to use for all-day work, then this might not be for you. The battery probably won't last all day with continuous use, but it does make for a great backup. It's perfect for anyone who likes to work on their own vehicles.
Oh, and it really does charge in 1 hour. So if it dies on you, just charge it for a little bit and you'll be good to go.
My battery is still working just fine, but WorkPro also sells replacement batteries for a reasonable price.
Power
In my experience, the WorkPro impact wrench is able to remove seized nuts and bolts without any problems. It didn't struggle once, and it appears to more powerful than my Ryobi One+ ½ impact. I did not directly compare, but it's at least as powerful.
For the price, you can't beat it. According to the manufacturer, it delivers 320ft pounds of max torque and 3200 rpm speed. Not bad.
The on and off trigger also controls the speed. The speed gets faster as you push the trigger all the way on and slower as you let it off. This provides really nice control so you're not yanking your arm off or over-torquing bolts.
Design
WorkPro did a great job with the design of this impact wrench. The green color scheme is great, as it matches one of my tool boxes. Also, the 3 LED lights make it easy to work in a dark garage, or up under your car where lighting is minimal.
The lighting in my garage is great, but when I'm under a car or truck it can still be difficult to see in certain locations, so having the 3 LED lights is extremely helpful.
Other than that, I'm a fan of the battery life indicator, and although the unit feels like compared to more expensive impacts – it has a really cool design.
Durability
So far, my impact has been soaked in transmission fluid (huge accident) and dropped numerous times. It has a few scuff marks, but it's actually a tough device. Tough like Milwaukee or DeWalt? No. But for the price it's impressive.
Unless you're a diesel mechanic and work on big trucks often, it's probably tough enough for you.
Conclusion: The WorkPro Cordless Impact Wrench is a Great Buy!
For $80, you can't really buy a better cordless impact wrench. It is now my go-to impact tool when working on vehicles at home in my garage. The battery life is great, and it charges super quick. It's tough enough to handle a wide variety of tasks and so far it hasn't struggled to break any bolts loose.
Want an impact wrench just for removing wheels? This is cheap and capable of removing lug nuts on any car or pickup truck. There's absolutely no need to purchase a higher-end impact wrench if you're not using it all day long in an auto repair shop.
The WorkPro cordless impact made me interested in their other products, so I will definitely purchase and review their other products in the near future. For now, I will continue to use their impact wrench for common repairs on my vehicles.
It's not just me either – almost all the reviews on Amazon are positive – Click here to check it out for yourself

Car enthusiast with a strong love for detailing cars! I'm always keeping up with the latest industry news and watching out for the newest cars to be released. Wishing a lot of these fancy concept cars would come to life but they never do. Follow me for automotive news, detailing tips and repair help.