Avid Power Cordless Drill Set Review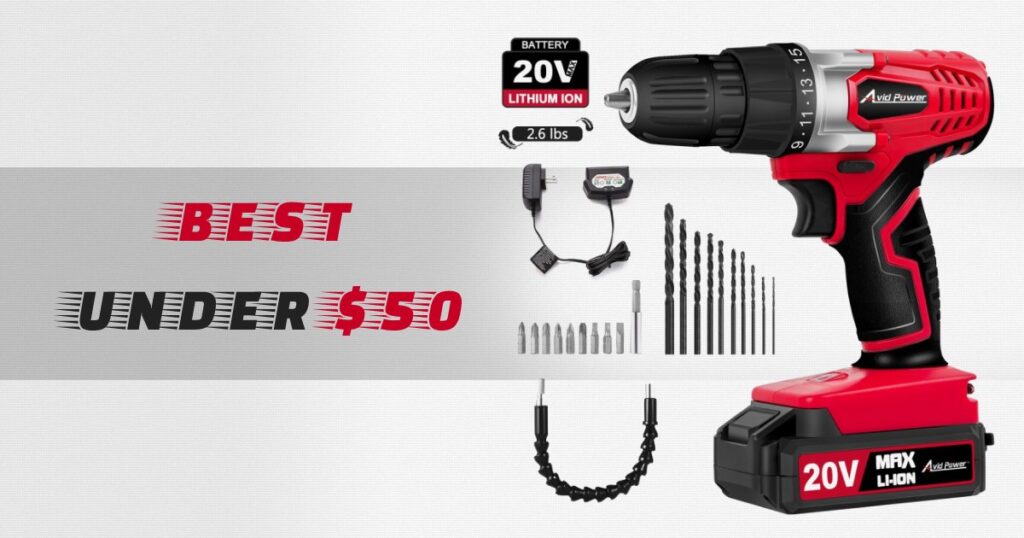 As an Amazon Associate, AutoPros earns commissions from qualifying purchases made through links in this post.
Avid Power has released a ton of great power tools that exceed expectations, and the Avid Power cordless drill set is no exception. You can purchase it on Amazon for less than $50, and it comes with a ton of accessories.
The model I'm referring to in this review is the MW316 Drill Driver Set.
Yeah, it's that cheap. I was super skeptical when I read the positive reviews, but now I can see why it has a 4.5/5 rating with over 10k reviews.
What I Use My Avid Cordless Drill For
Drill brush: As an auto detailer, using a drill brush is an important part of my job, as it speeds up the carpet cleaning process tremendously.
Making modifications to vehicles: as an example, I have used this drill to create new holes for speaker mounts. I have also used it to install a front license plate on a car that didn't have holes on the bumper yet.
Building things: Yes, I like to build stuff. Most recently, I used it to build a custom box for a 12" subwoofer.
With that said, it's important to understand that my cordless drill doesn't get used daily, and it doesn't get used for long periods of time. I've worked in construction before, framing houses and hanging drywall. I know what DeWalt drills and impact drivers are capable of, and this is not nearly as durable or capable. The Avid Power cordless drill works perfectly fine for my needs, and I always keep the battery charged so I have yet to see it die.
Avid Power Cordless Drill Set Features
There are many basic features you can expect from this drill, such as the 15+1 position setting, variable speed trigger, reverse/forward switch, and LED light so you can see in dim areas. It's completely capable of drilling through wood and metal, although I wouldn't recommend drilling through thick metal.
Here's why I chose the Avid Power cordless drill – it comes with 22 accessories! Yeah, that's 10 drill bits, 10 driver bits, a flexible shaft and an extension bar. I just wanted the drill and driver bits to get me through a few projects and test it out. So far, so good.
Another thing I really like about it is the weight. This device is lightweight for sure, as it only weighs about 2.5 pounds. That makes my job so much easier! I don't get tired of holding it anymore when I'm using the drill brush to clean carpet.
The Battery Life and Replacement Batteries
If you read the reviews like I do, then you will notice a few negative ones mentioning the battery. Specifically about how you can't buy a replacement battery. Well, that's just not true. Avid Power sells replacement batteries on their website (just not on Amazon).
Also, the battery life is not that bad. Battery life on my Avid Power cordless drill is about 45 minutes of continuous running before it dies. I don't use mine that much, usually mine is used for about 15-30 minutes and then I'm done for the day. I've never had mine die on me, yet. Keep that in mind, as some users will need more battery life than others. But like I said, you can buy a backup battery on the Avid Power website.
Conclusion: Avid Power Has the Best Cordless Drill Under $50
I've used other cheap drills, ones that have plastic gears but weigh a ton (not mentioning names, but you know who you are) – and I'm just glad I gave this one a chance. If I had never tried their Avid Power polisher, then I would have never trusted the brand. But, just like their polisher, their drill has exceeded my expectations.
View the Avid Power Cordless Drill Set on Amazon Now.

Car enthusiast with a strong love for detailing cars! I'm always keeping up with the latest industry news and watching out for the newest cars to be released. Wishing a lot of these fancy concept cars would come to life but they never do. Follow me for automotive news, detailing tips and repair help.